Back in my college days, Albany had this odd show on at random times on Sunday nights called "The Glenn Slingerland Situation". Besides having one of the weirdest names ever for a television show, they played some really unheard of music and recycle about 10 different clips of people walking around or doing things. It was oddly entrancing, and I would watch it whenever it came on. At very least, it made for great, non-obtrusive background music when I was doing school work.

To get a rough idea of what the show was like, listen to "Groove Salad" out on soma.fm (an awesome radio station I found today and got me thinking of The Situation in the first place). While you're doing that, look at any 10 mundane, silenced YouTube clips randomly for about half an hour and that's approximately what Glenn Slingerland's situation is. Actually, that's probably exactly like watching the show, only without the commercials. You're welcome.

While the show was all well and good, I was poking around on their website (their homepage) today and came across a page that, like the show's title, raises more questions than it answers (their "you on the situation" page ed: page no longer exists, but go with it). First, you're greeted with their show logo, and this guy: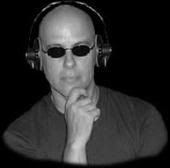 We're left to speculate who this unnamed individual is. One plausible guess is that it is Mr. Glenn Slingerland himself. Another one is that it's Mr. Clean with headphones and sunglasses on. Either way, he looks like he's thinking really pensively, going to the bathroom, or both. It's really creepy and makes me want to get a restraining order on him for reasons I don't fully understand myself.
Funny thing is, I doubt I'm even his type as the rest of the page reads like the personal ad of a crazy person (bold added to emphasize the crazy):
YOU could be AMERICA'S NEXT TOP SITUATION STAR...

Send us an

email

telling us a bit about yourself and why you want to become the next new star on The Situation.




If you are a woman between the ages of 18 and 59, enjoy wearing black, having a lot of fun, and passing through interdimensional alleys...

...IT COULD BE YOU!
Erm... what? Interdimensional alleys? Are these alleys cult-related or drug-induced? Because depending on the answer, I want either a pamphlet or a telephone number.
Also, while I'm not an expert on the female mind, I'm pretty sure talk of interdimensional alleyway travel will raise huge red flags and scare off most women. Glenn, man, talking from personal experience that's 3rd date material at best.