I recently came back from my trip that took me from Georgetown to Georgia, visiting several universities to learn more about various MBA programs.

On the school end of the trip I visited 5 schools in total. I discovered that Duke's school of business was not for me, and I won't be applying. All the other schools rocked in their own different way, and I will be applying to them all. The list includes:


McDonough (Georgetown's School of Business)
Darden (University of Virginia's School of business)
Kenan-Flagler (UNC's school of business)
Terry (University of Georgia's school of business)
But in addition to visiting schools, I saw a lot of family and friends down south that I hadn't seen in a while. Granted, between the near constant cycle of travelling and school visiting, I didn't have as much time to spend with them as I would have liked, but it was good to reconnect. Thanks for letting me crash on your couches, guys!
The highlight of these non-school musings was definitely spending Halloween in Athens, Georgia. Athens, for all intents and purposes, is a college city. So imagine a few
thousand
people my age all dressing up in costume and going to the bars. Even just chilling with a beer watching all the people walk by in their costumes was like an awesomely crazy parade.
My favorite part of Halloween, however, had to be just before me and my friend went out to the bars. We get dressed up in costume, him
a fairly good replica of The Continental
- an obscure Christopher Walken
SNL sketch
- and myself as the Burger King. We were hungry. And, well, this happened: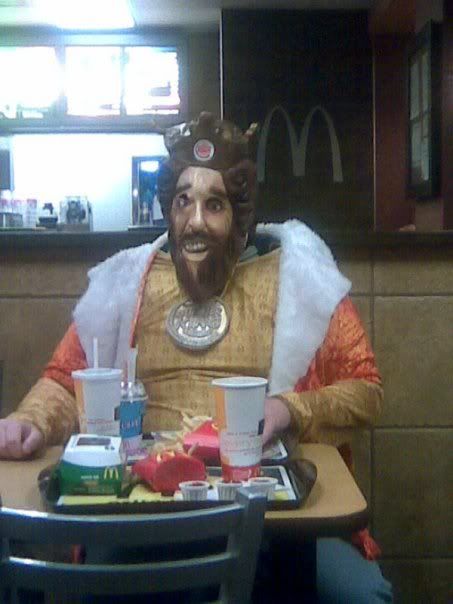 Needless to say, the people at McDonalds were pretty amused. The irony made the fries taste
extra delicious
.