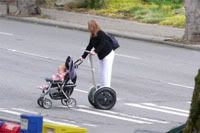 Another "at-risk" leg under-user
Citizens of the Internet, I am here today to inform you of an alarming trend: leg under-use. Cultural pressures, the widespread availability of automobile technology and sedentary lifestyles have caused this latest health epidemic. If this trend continues, our legs may soon become the body's next "pinky toe" - nice to have appendages, but wouldn't be really used for anything anymore.
It's time to change that. New research suggests that leading a more pedestrian lifestyle can help stem the onset and in some cases even reverse the effects of leg under-use.

I propose an annual "Pedestrian's Walk", a walkathon to promote pedestrian awareness. I envision a large outdoor venue where physical activities, games and (of course) walking will take place. Ideally, there would be refreshments (still unsure if there should be alcohol) and entertainment as well, as this walk is meant to entertain as much as it is to inform. The event would be open to all who catch word of it, all in the spirit of pedestrian awareness.

Let me know what you think. If you, dear readers, think this idea has merit and I can get the logistics of the event worked out, then maybe - just maybe - we can help win the fight against leg under-use together.