While I've already told this to some of my friends, I felt that there were some other more pressing stories that took priority. As of this past weekend, I am now a card carrying member of Mensa.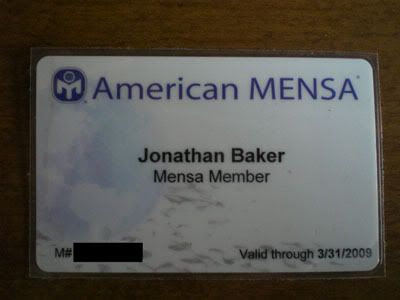 According to Wikipedia
(who almost always do a better job at explaining things than I do) Mensa is a high-IQ society whose only requirement for entry is that you demonstrate through certain standardized and monitored tests that you are within the top 2% IQ. Truth be told, I don't even know what my IQ is, but my recent GMAT scores (which I did really well in) qualified me.
Doing a little research, they have a list of famous Mensans. Most of them I hadn't heard of, but I was surprised to find a bunch of really cool people:
Also, since I've already gotten some ribbing from those close to me, I've come up with the following, preemptive responses to the typical friendly insults I've received so far:
How many geniuses does it take to do [task at hand]? More than we have, currently.
It doesn't take a genius to do [task at hand]! I agree, you do it.
So this makes you an official nerd now, right? You knew that before, what changed?
Nerd. Thanks!
YOU WERE ADOPTED! :*(
All in all, I'm excited to have become a member and can't wait to see what Mensa has to offer.