This evening I was trying to do something productive with my new Bamboo tablet. You know, to kick the tires. I decided to use this week's Cracked.com Photoshop contest to see how it impacts my ability to use Photoshop. The theme of the contest was "Everyday objects as designed by M.C. Escher".

I have to say, working with a tablet is immensely less frustrating than the mouse. Granted, I'm still a relative novice at Photoshop, but the control and flexibility of having a pen on a surface was liberating. I dare say it was fun to be able to add so many little details to an image so quickly - details that would otherwise be a chore. Touch-ups, surgical erasings of layer parts, extractions, even layer manipulation just felt natural, allowing me to accomplish in seconds what used to take minutes.

One thing I still need to get used to is the tablet pen itself. It comes with 2 buttons on the pen, right at the level where I keep my thumb. If I'm not careful, my grip (which I find changes as I write) will accidentially hit one of them and screw up what I'm doing at a given moment. This is more of a minor setback than anything, and one I'm confident I'll avoid entirely with more practice.

While this was only a dry run, I'm really happy with the tablet and expect to use it more in the future. The resultant image of this dry run: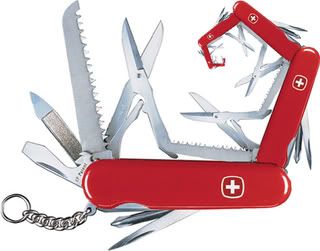 Yo dawg, we heard you like Swiss Army Knives...