So. Hi.

Life got in the way for quite some time. I could fill a book explaining all the big life-changing events that have transpired in the past however-many months I've stepped away (I'll share them soon enough). Life may still get in the way. But the point is I want to start blogging again. I missed this blog.

This blog was amazing for a few reasons. First, it got me writing. I never really did care what the final product would be, just that I was writing on a regular basis. The only rule I set for myself was that I was enjoying myself as I did it. This continuous practice of putting out complete, compelling (at least to me) thoughts made me a better communicator. And not just written communication, I became a more clear and coherent speaker during the time I was writing.

Additionally, writing sparked my creativity. When I first started this blog way back in 2008, eons ago in internet time, I was daunted by the fact that I had to write about something every day. I thought I'd run out of ideas in a week. But I didn't. I kept writing. Sure, I linked a number of videos and stories in some of my posts, but it got me writing. It got me putting pen to paper in an attempt to be interesting and attach my own views and outlooks to things.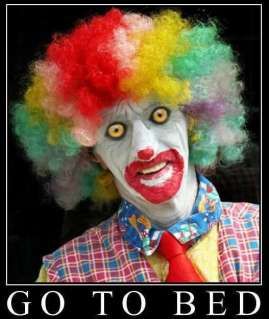 Remember images with captions? I freaking love images with captions.
Amazingly enough, the more posts I did, the more ideas for posts I would get. I want to rekindle that kind of creative momentum.
I'm back. Now I have to make an honest man of me.
P.S. It took a
friend's blog
to make me realize how much I missed doing this. There was nothing inspirational or remarkable about the post per se, it just got my attention at the right time, and she seems to genuinely enjoy it. Thanks, Julie.